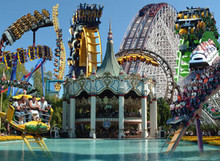 California's Great America
Where

2401 Agnew Rd, Santa Clara , CA

Call

408 9881776

Web

Tags

Hours

Mon-Thu (6am-5pm)
Fri-Sun (3pm-10pm)

About
One of Silicon Valley's top attractions and on the same list as The Tech Museum and Winchester Mystery House for family fun.

2009 BEST OF SILICON VALLEY Reader Survey Winner - First Place
Best Place to 'Accidentally' Lose Your Top
ooming down a tunnel at speeds that seem to be close to 100 miles per hour and then launching into the air before slamming into a refreshing vat of water. Yay, water parks. Before you get up, you of course check to make sure that your bikini bottoms and top are still on correctly. Of course if your top gets loose and happens to come off, well, now you've made everyone in the park happy. (CW)

Welcome to the California's Great America. A great place for family, friends and mainly fun. Rides, water park, food, entertainment and more...

More San Jose/Silicon Valley Attractions
Hotels Near Great America
Santa Clara Restaurants

Twitter
Between Academy of Villains, Nytewalkers & Blades of Horror, which is your favorite? http://t.co/S1roA5AEq6 http://t.co/zvZY6MC2Cs
Visit #Snoopy'a #trickortreat festival. Kids can wear their costumes. Season Pass holders can bring up to 6 guests for just $19.99 on Sun.
@thanx4helping Yes, Haunt is a separate event,therefore if you want to stay you would have to purchase tickets for Haunt even to ride rides.