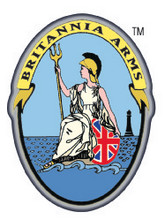 Britannia Arms Almaden
Where

5027 Almaden Expy, San Jose , CA

Call

+1 408.266.0550

Web

Tags

Hours

Mon-Fri (11am-2am)
Sat-Sun (9am-2am)

About
Britannia Arms Almaden might just be a sports-lovers paradise. HDTV and Direct TV sports packages prove their excellence on over 18 large screen TVs throughout the pub, allowing fans to catch a constant supply of sports like hockey, golf, baseball and football from both sides of the pond. This comfortable, welcoming San Jose neighborhood pub also satisfies with everything from traditional pub grub to foosball tables; and if that's not enough, live music Wednesday through Sunday.


------------------


The heart of British nightlife, the pub scene comes to a head at the Britannia Arms Almaden, a San Jose neighborhood bar and hangout that's been a local favorite since it opened in 1988. With a large selection of British ales, beers and ciders on tap, the fun never runs dry, and pub goers can take a hop across the pond with specialty drinks like the Snake Bite (hard cider mixed with lager) or a classic Black and Tan (Guinness and Bass). Full service lunch and dinner menus keep hungry appetites satisfied and the late night munchies at bay. From bangers and mash to a selection of sliders and shoestring fries, the Britannia Arms serves up all the pub grub of a traditional British joint along with a few American twists.

Sports fans unite at the Brit, where 18 large-screen HDTV's showcase athletic prowess from around the world. Whether it's live UK football, MLS, NHL, MLB, NBA or football of the American version, athletic events are a staple to this lively sports bar. The Britannia Arms Almaden also attracts its share of sports celebrities. While a member if the San Jose Earthquakes, World Cup Soccer superstar, Landon Donovan mentioned that the team would usually head to the Britannia Arms Almaden after games and members of the San Jose Sharks NHL Hockey team have also been known to be spotted on occassion. Darts and foosball keep avid fans from getting too rowdy, and a step outside onto the heated patio can offer a moment of relief after a close game.

Tel: 408.266.0550
---------------------------------------------------

Weekday happy hours from 3-7 pm offer discounted drinks for those looking to unwind after a long day at the office. For the late-night crowd, the Britannia Arms offers live entertainment five nights a week. San Jose bands play Thursday through Saturday, and local DJ's spin the latest pop and hip-hop beats Wednesday and Sunday nights. Bar goers can dance the night away with friends or show off their skills to the slew of singles that frequent the Brit, a favorite among those in the know in the San Jose scene. To all those with two left feet, fear not: Seating space is comfortable and ample, and the Brit hosts Pub Stumpers Trivia every Tuesday night for those more suited to impress with their knowledge of the arcane and the obscure.

Conveniently located in South San Jose and just off Highway 85, the Britannia Arms Almaden is a friendly and inviting neighborhood bar and meeting spot for pub goers of all kinds. For sports fans, singles and casual drinkers alike, the Brit serves up the food and fun that make this British pub and sports bar a mainstay in San Jose.

---------------------------
A stalwart outpost of English bar culture for more than 20 years, the Brit Almaden pleases soccer fans with plenty of televised action and nearly a score of beers on tap. The entertainment includes DJs on Sundays, Wednesdays and Thursdays, and local bands on the weekends. -- Metro Bars & Clubs, June 16, 2010

Live bands, darts, dominos, karaoke, sports, fish and chips, bangers and mash-when it comes to the prototypical pub, the Brit is the real deal. The downtown location features a stylish patio and bar out back, an excellent addition to the local scene.

2008 BEST OF SILICON VALLEY Reader Survey Winner
Honoree Best Happy Hour

San Jose happy hour fiends love the Brit's comfortable, slightly rowdy, pub scene and wide range of discounted drinks. A popular spot to stop for a brew and fill up on a variety of classic bar bites, the Britannia Arms' relaxed atmosphere, discounted happy hour menu and $1 off pints, wells and premiums draw a crowd almost every night of the week.
- Metro, Silicon Valley's Weekly Newspaper, September 24, 2008

2007 BEST OF SILICON VALLEY Reader Survey Winner
First Place Winner and Staff Pick Best Pre-Sharks Game Spot
Runner-up Best Karaoke
Runner-up Best Pub
Honoree Best Sports Bar

View all sports of every kind, including live soccer from the UK and around the world as well as all NFL, NBA, MLB, NHL, College Football and Basketball all featured on our big screen TVs. Satisfy your urge to drop a pint and sample our fish and chips, bangers, burgers, ribs, steaks or any number of the wide variety of foods that we offer.

The Britannia Arms at Almaden is very conveniently located in South San Jose on Almaden Avenue right next to Highway 85, Highway 87, Blossom Hill Road and the Light Rail system. Visit nearby Almaden Quicksilver Park for an interesting look at Almaden's mining past.