San Jose Attractions
Theaters & Concert Venues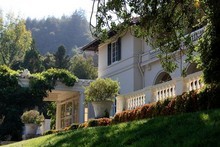 15400 Montalvo Rd, Saratoga, CA

408.961.5800
The Montalvo Arts Center is a sprawling 175 acre bit of land, nestled within the hills of Saratoga, and has established its reputation as one of Silicon Valley's most beloved performing arts organizations. Montalvo also houses multiple theaters, whereat hosts benefit performances, lectures, stand-up comedy events and more. The Carriage House Theatre and Lilian Fontaine Garden Theatre are joined by the Barn Art Studio for art making, the Creekside Studio for artistic collaboration, and more. Montalvo Art Center's goal is to enrich the community by enriching the artists.
Children's Musical Theatre of San Jose
1401 Parkmoor Ave., San Jose, CA; Tickets: 408.288.5437
The Choral Project
1005 South 9th St., San Jose, CA 95112; Info: 408.746.0905
City Lights Theater Company of San Jose
529 South Second Street, San Jose, California 95112; Tel. 408.295.4200
Contemporary Asian Theatre Scene
476 Park Ave., San Jose, CA 95110; Info: 408.298.CATS (2287)
Lyric Theatre of San Jose
430 Martin Ave., Santa Clara, CA 95050.2911; Tickets: 408.986.1455
Le Petit Trianon
72 N. Fifth St., San Jose, CA 95112; Tickets: 408.995.5400
Montgomery Theatre
291 S. Market St., San Jose CA; Tel. 408.277.4468
This San Jose theater is a delight for youngsters offering children's musical renditions of "Miss Saigon," "Cinderella" and "Once On This Island."
San Jose Center for the Performing Arts
255 Almaden Blvd., San Jose CA; Tel. 408.277.5277
A clunky, tan cubist exterior at this San Jose theater gives way to interior elegance and a refreshingly diverse San Jose theater programming.
525 W Santa Clara, San Jose CA; Tel. 408.287.7070
Formerly known as HP Pavilion, this San Jose theater and auditorium center attracts high-profile events as varied as Disney on Ice and the Rolling Stones and is also home to the San Jose Shark games.
101 Paseo De San Antonio, San Jose, CA
The San Jose Repertory Theatre is one of the city's most beloved and iconic locations for all things communal and artistic. It's been the home of both dramatic performances and side-splitting comedies for over 20 years, and has recently been taken into a new area of artistic experimentation with newly-appointed director Rick Lombardo. The theater is one of many in San Jose's bustling scene, and has seen a steady stream of stars make appearances for a variety of shows, including but not limited to Carrie Fisher and Mad Men's Vincent Kartheiser.
San Jose Stage Company
490 South First St., San Jose, CA 95113; Tickets: 408.283.7142
Theatre On San Pedro Square
29 North San Pedro St., San Jose CA 95110; Tickets: 408.283.0200
Mountain View Center for the Performing Arts
500 Castro St., Mountain View CA; Tel.650.903.6000
This spacious, elegant and airy Silicon Valley theater does not simply rely on its beautiful facilities but hosts high-quality performance companies such as the Western Ballet, Peninsula Youth Theatre and the well-regarded TheatreWorks.
Shoreline Amphitheater Concerts
Shoreline Boulevard, Mountain View CA
Opened in 1986, Shoreline Amphitheater Concerts was designed for the optimum comfort of performers and audiences. It is a state-of-the-art event facility incorporating all of the technical, visual, service, and comfort elements. Some high-profile events include Britney Spears, Ozzfest, Jessica Simpson, San Francisco Symphony and many others.
Flint Center
21250 Stevens Creek Blvd., Cupertino CA; Tel. 408.864.8816
Some of the most engaging performers and influential speakers pass through this Silicon Valley theater.
Lucie Stern Theatre
1305 Middlefield Rd., Palo Alto CA; Tel.650.903.6000
This small community Silicon Valley theater hosts occasional but worthwhile performances for local audiences.
Fox Theatre
2215 Broadway, Redwood City CA; Tel. 650.369.4119
This unassuming but well-represented Silicon Valley theater group hosts performance dazzlers such as Tony Bennett and the Silicon Valley symphony.