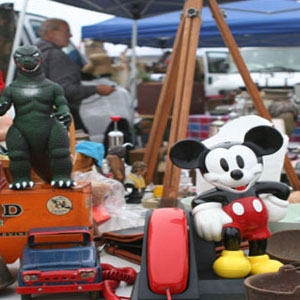 Toys and toy telephones abound at the Alameda Point Antiques Faire.
10. Make a Fast Food Run
Remember when the closest In-N-Out was that one on the way to Sacramento? One of the worst things about relocating to the Bay Area from other parts of the country can be being forced to give up your regional fast food chains. Establishments like Sonic and Chik-Fil-A are an every-corner affair in many parts of the country, but not in California. If you're longing for a beloved burger, pile your friends in a car and trek out to the nearest outpost of your most-missed dining establishment – many of them have presences in the outer reaches of the Bay Area, or closer in toward the central valley.
9. Wander in Monterey
You don't even need a reason to visit Monterey; the drive alone, which winds past the coast we all know is there but hardly ever get to see, almost makes it worth it. Monterey and nearby Carmel make a favorite escape for San Joseans, even if all they do when they get there is sit in their car and stare at the ocean.
8. Hike in Marin
Did you know we have a national seashore? It's in Marin, along with several other expanses of national park land that are rich in the kind of scenery we just don't have in the South Bay. Hike Muir Woods, or bask in the convergence of natural and man-made beauty at Fort Baker, and take a moment to ponder what the Bay Area looked like before we started building upon it.
7. Hop on POPOS in San Francisco
Busy downtown San Francisco is actually home to tons of hidden public spaces on private property (privately-owned public open spaces, or POPOS)—little patches of green on high-rise rooftops or in central atriums of buildings. Check out the map, made available by the city's urban planning department, or go exploring on your own (it can be more fun this way, but beware security guards).
6. Surf in Pacifica
Hitchcock loved the California coast, and we don't blame him. The oft-grey skies of idyllic Pacifica make it the quintessential coastal town, and would have made a perfect backdrop for a little mystery and intrigue. Pacifica is what every other coastal town hopes to be: quaint, sweet, and quiet except for the constant crashing of the Pacific. The big waves make for ample surfing opportunities for sportier types. The weather could be better, but when San Jose is in the throes of the dog days, the fog couldn't be more welcome.
5. Go Berry-Picking in the Santa Cruz Mountains
Spending your day off at the Boardwalk? So obvious. Santa Cruz County has always been one of the state's agricultural powerhouses, and many of the smaller farms let you pick your own produce straight from the vine. We suggest the family-friendly Gizdich Ranch in Watsonville for beginners, where you can find apples, blackberries, boysenberries, raspberries, and snozzberries (just kidding).
4. Go Antiquing on Alameda
Alameda has a huge antique culture, much to the delight of local vintage-lifestyle enthusiasts. Hell, the city itself is a time-capsule, its downtown drag dripping in midcentury architecture and signage. Do the antique-shop hop up and down Park Avenue, or come on a designated Sunday and check out the Alameda Antiques Faire. The Antiques Faire is held the first Sunday of every month at the old naval base, a huge flea market where vendors of everything from furniture to vintage fashion gather and ply their wares.
3. Explore East Bay Open Space
On the other side of the Oakland hills lies a gorgeous, hilly area that's more Marin than Martinez. Take a twilight drive down Highway 24 and take in the scenery, then stop in cozy downtown Walnut Creek for drinks or dinner.
2. Hobnob in Blackhawk
What's Blackhawk, you ask? Believe it or not, it's not a supervillian HQ in the backroads of the East Bay (We know, we were disappointed, too). It's actually a tiny, insulated, master-planned community in the 925 where, as Rancid snarled back in 1994, "all the rich people hide". The amount of wealth going around in Blackhawk is kind of appalling, but swinging by for a day can be fun. Take a ride across the county line to window-shop (or actual-shop if the urge strikes) at the Blackhawk Plaza shopping center, where there's a plastic surgeon right in the mall.
1. Be a Tourist in Napa
C'mon – when you live here, you have to take a wine tour at some time or another. If you haven't taken that rite of passage yet, take your next day off to drive up to Wine Country and get drunk in the classiest way possible. Book a wine tour, or plan it on your own. Just make sure to wait a little while before you drive back. Might want to eat something, too.