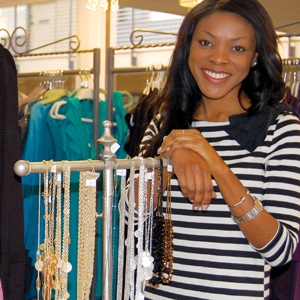 25-year old Ibi Oluwole turned a childhood sewing lesson into a full-time job.
Llike a lot of young girls, Ibi Oluwole played with Barbie dolls. She found however, that the outfits that came with the dolls didn't really appeal to her. "I never liked the dresses that came in the box," she recalls, "so my mom used to sew Barbie dresses for me."
Eventually, her mother handed over dressmaking duties to her daughter. "When she got tired of making them, Mom taught me how to sew," says Oluwole with a smile.
Oluwole, who is originally from Nigeria, was 12 years old when she started making Barbie dresses. By the time she hit high school, she was designing and making dresses for herself, including a detail-rich, ivory lace dress for the senior prom. "It took forever, and I wish I would have just bought it," she says, explaining that the mid-thigh-to-floor beading took three months for her mom and her to finish. Though a bit harrowing in retrospect, the experience stoked Oluwole's passion for fashion and she set her sights on a career in the industry.
After high school San Jose–based Oluwole spent 2 1/2 years designing dresses and jewelry for boutiques in San Francisco, Los Angeles and Maryland, while working on a business degree at Santa Clara University. After graduation, she attempted to get a job in fashion, but her business background didn't open any doors for her in the industry. "I didn't have a fashion degree so I didn't get a lot of responses to résumés I sent out," she confesses.