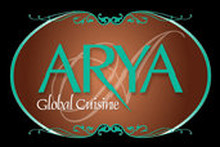 Arya Global Cuisine
Where

19930 Stevens Creek Blvd, Cupertino , CA

Call

+1 408.996.9606

Contact

Web

Tags

Hours

Mon-Thu (11:30am-9:30pm)
Fri-Sat (11:30am-11pm)
Sun (11:30am-9:30pm)

About
Arya Global Cuisine, Persian, Italian, American! A menu that consists of all cuisines. Service beyond your expectations, A setting that is warm and inviting no matter what your event.

The perfect setting for all your corporate functions,we offer 2 banquet rooms, a great fireplace and an inviting lounge to let go of your day.

--------------------------------------------------------------

Cupertino's favorite restaurant with many choices whether you love Italian or Persian Cuisine in the heart of Silicon Valley. Arya features seafood, steaks, chicken, kebabs, great salads, and pastas cooked to order the best of healthy cuisine. A Full Bar with a fine selection of California and Italian wines. Delicious cakes and desserts for every event from our Tiramisu to our Persian style Baklava and Pistachio ice cream. For business, family, friends, and special celebrations up to 250 people. We love to make you feel special in our home. You will be comfortable in business or casual attire, enjoying our casually elegant environment. Children's menus and high chairs are available. Take-out orders for home or business are a convenient way to dine. We also deliver. Enjoy dessert or cocktails in front of our fire place or reserve one of our banquet rooms for your special occasion. You will enjoy service from our warm and friendly staff. Live Music & Belly dancing on Fridays & Sat at 8.

Message from Mike Hashemi – Owner and Chef

"We hope to provide our guests with a journey and adventure into both Cuisines. Enjoy a complete and Traditional homemade Persian & Italian Food all at the same place, as our guests say, There is something on the menu for everyone even a kids menu. Adventure into my specialty Ossobucco, cioppino, Pollo Firenze and more with me."

Private Party Facilities: We can reserve the whole restaurant or any of our two private banquet rooms for special parties or banquets. You can create your party with the help of the executive chef or general manager.

Private Party Contact: Mike & Fera Hashemi (408) 996-9606

Catering: We offer Catering for all your special occasions. Whether it be just appetizers, our delicious wraps, kebabs, pasta specialties or seafood. Let us handle all of the details from set up to making every detail a memorable one. We offer many specialties from our Italian menu to our Persian Menu. We also deliver.

Entertainment: Enjoy great Italian music by Pasquale every other Friday and Persian music on Saturdays and belly dancing starting at 8:00pm. If you like to be away from it all, no problem! We feature private rooms as well to be away from it all in your own private setting.

Additional Details: Banquet/Private Rooms, Bar Dining, Bar/Lounge, Beer, Counter Seating, Dancing, Delivery, Entertainment, Fireplace, Full Bar, Happy Hour, High Tea, Late Night, Non-Smoking Restaurant, Personal wines welcome (corkage fee applies), Private Room, Takeout, Wheelchair Access, Wine, Wine Bar

Parking Details: Private Lot. You never have to worry about parking. We have our own parking lot with over 80 parking spaces and special take out parking up front.

---------------------------------------------------------------

Arya Global Cuisine
19930 Stevens creek Blvd
Cupertino, CA 95014
Tel: +1 408.996.9606
www.AryaRestaurant.com


ALL NEW LOCATION - Redwood City!
Arya Global Cuisine
885 Middlefield Road
Redwood City, CA 94063
Tel: +1 650.367.4939
www.AryaRestaurant.com
Twitter
@tjain We definitely agree with that! Do you always try to fill up before going to the store?
@alexwang9988 Nice check-in! What'd you think of Davanti Enoteca? Would you recommend?
How many of you would recommend us to a friend or family member? Let's see how many responses we can get!