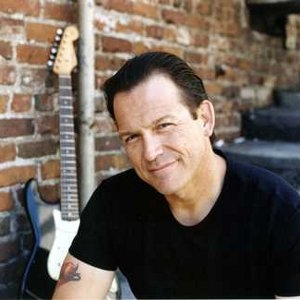 Tommy Castro returns to the Metro Fountain Blues Festival on Saturday, July 9. (video)
Tommy Castro, who performs at the Metro Fountain Blues Festival this Saturday, wasn't expecting much when he went to Memphis for the 2010 Blues Awards. Despite the critical acclaim that had been heaped on his record Hard Believer, the San Jose native figured at most, if he was really lucky, he'd pick up one of the Bues Foundation's W.C. Handy awards, the industry equivalent of the GRAMMYs. He even politely declined the ceremony organizers' suggestion that he should play the show's finale, and couldn't figure out why they wouldn't drop it.
What they knew, but of course couldn't tell him, is that he'd swept the categories for which he'd been nominated—Contemporary Blues Album, Contemporary Blues Male Artist, Band of the Year (for the Tommy Castro Band) and the most coveted of blues awards, the B.B. King Entertainer of the Year.
"I was talking to people backstage, going 'Wow, this is cool,'" Castro remembers of winning the night's first award. "People were congratulating me and stuff. Meanwhile, the next category's going on, and I'm not really paying attention. It was us again, and we won again. So they're going 'Hey, you have to get back up there!' That happened four times. I swear each time I thought, 'Well, that must be it.' I was really happy, I felt like me and my band had been working our asses off, and this was just sort of a nice feeling to be recognized like that, way beyond my expectations."
It was as if, after years as the much-respected but still somewhat misfit blues guitarist who insisted on singing soul music, Castro's instincts had gotten the ultimate validation from his peers. Still a bit in shock the next day, he and his band made a pilgrimage to the Stax Museum to bring the whole thing full circle.
"It's right on the site where they used to have Stax Records, the studio where all those great records were made. That's a big part of our sound, of course, Memphis soul music. Hardly anything has been more influential on my music than that scene that happened down there in the '60s. So we went there to pay our respects," he says. "Then we ate some greasy food after that."
The soul gods and greasy spoons of Memphis may demand their tributes, but for Castro soul music really started 1,800 miles away in his hometown.
"I grew up in East San Jose, and every single day you would hear Wilson Pickett's 'In the Midnight Hour' coming out of low-rider cars," he says. "Every day I'd be walking down the street and somebody would be driving by with their windows down blasting Wilson Pickett or Sam and Dave or Junior Walker."
It would be years before he'd discover how much that sound had affected him; when he first picked up a guitar at age 10, he was mostly interested in the blues. So when he eventually got interested in performing, and stumbled upon J.J.'s Sunday night jam, it was a revelation.
"I found J.J.'s and went 'I can't believe there's a real place to play blues in this town. Thank God!," he remembers. "You would see Chris Cain and Gary Smith, all kinds of people. Ike and the Coldbloods. I saw Albert King in that little tiny J.J.'s. I swear to god, he stood on the dance floor and played. The stage was too small, but the band was on the stage and he was right down on the floor, man. I saw Buddy Guy and Junior Wells there. A whole bunch of people came through town there. My band Nite Cry developed out of that scene."
That band, led by the late Rene Solis, began gigging in the South Bay and soon started making inroads around the Bay Area.
"[Rene] was an inspiring guy, because he loved doing the music so much. He was the driving force behind all the gigs that happened. He wanted to play, that was it. He was the leader of the band," says Castro. "That little band, playing around in San Jose, occasionally getting gigs in San Francisco, is what caused me to make the decision to take a shot at music as a career."
By the late '80s, Castro had moved to San Francisco, and got swept up in the North Beach scene. Like now, it was a time when classic soul music was being rediscovered, and groups like Pride and Joy and Stu Blank and His Nasty Habits were reviving the sound. Castro got a gig with one of them, the Dynatones, who had signed a deal with a major label. By 1991, he had gone solo. But not everyone could wrap their mind around his knack for blending blues and soul.
"People didn't understand why I wanted to do soul music when everybody was trying to find another Stevie Ray Vaughan," he says. "I'm not a blue-eyed soul guy straight up, and I'm not a traditional blues guy straight up, and I'm not a rock-blues guy straight up. I take a song and I try to figure out the best approach to that song. I'll play it however it comes out. Songs like 'Wake Up Call' [the first track on his new live album], I don't even know what you call that. That's not a blues song or a soul song or a rock song. I don't know what it is. But I like it. I think it's cool."
Castro is well versed in sticking to his guns. He had to do it even on Hard Believer, the album that would eventually net him so many awards. When putting together "Trimmin' Fat," a sly tune that encapsulates what the blues has always stood for—telling it like it is about the troubles of the common man, with a beat and a catchy chorus—he and co-writer Mike Schermer felt like they were missing something. So Castro reached out for some extra help.
"Elvin Bishop was one of my biggest influences as a kid," he says. "He's a friend of mine now, and I asked him if he wouldn't mind taking a listen to the song and see if he had any advice. He said, 'Come on over,' so I went over and played it for him. He kind of sat there and listened, then he took his guitar and went 'do do dee do.' I went 'That's it! That's what it needed!' And I still think that little line makes the song."
But when he brought it to Bruce Iglauer, head of Castro's new label Alligator Records, Iglauer wasn't going for it. "You're a singer; this is a talking song," Iglauer told him. "That's not for you; you're a serious vocalist." Iglauer suggested it was a better fit for Bishop himself.