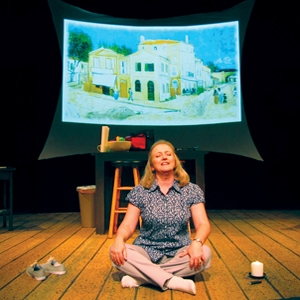 Karen DeHart stars as Mama in 'Distracted.'
Lisa Loomer's Distracted, a recent play about a troubled American family, had its own trouble coming together for a solid opening-night crowd at City Lights Theater Company last Saturday night. In Distracted, a typical suburban mother spends an anxious period trying to cope with her son Jesse's possible diagnosis with ADD, her husband's negative reaction to the situation, the speculation of friends and neighbors, the conflicting recommendation of doctors and her own fear of medicating her 9-year-old boy with Ritalin. The frenzied pace and aggravating aspects of life in the Information Age are rolled into a ball of self-conscious dialogue and tossed onto the stage, challenging the characters and the audience to look critically at their lives, their children and their choices.
Karen DeHart does a good job with the demanding lead role of Mama. She's onstage for the duration of the play, both multitasking within the context of the story and knocking down the "fourth wall" to talk directly to the audience. Kristin Brownstone shines in a complex three-part role, making the quick changes between teacher, psychologist and waitress written into the dialogue work seamlessly. As Dad, Michael Riley displays irritation, anger and volume, creating a character who comes off as a big loud jerk. The silly accents adopted by Steve Gold in the role of the various doctors who treat Jesse go too far, detracting from the already dubious humor and burying any sense of realism.