The Jose
64 South 2nd Street

Designed by William Binder, this is the earliest surviving example of his work.
Update 1999: As a result of hard work on the part of PAC (Preservation Action Council), the theater appears to have escaped the wrecking ball.
Update 2003: Restoration complete.
The following blurb is found on a site called Historic Buildings of Santa Clara County that may or may not be sponsered by the Redevelopment Agency--it is nebulous.
"The Jose, built in 1904, is the oldest theater in San Jose, located on Second Street near San Fernando Street. Construction of the Jose was started in 1903 under the ownership of David Jacks, a Monterey landowner who was the namesake of Monterrey Jack cheese. At that time, the theater was a popular showcase for stock companies and vaudeville acts. Its history includes an appearance by magician Harry Houdini and a stint as a vaudeville house. Within a 10-year period the theatre ownership changed from Jacks to Chicago speculator William Warren."

"In the 1920's, James Battey bought the Jose as an addition to his local chain of theaters. Under Battey's tenure, the entertainment was changed to include silent motion pictures with the customary live musical accompaniment. In the 1930's the Jose began its history of showing second-run films. In 1933 Battey invested $35, 000 for remodeling. In 1949, James B. Lima's General Theatrical Company purchased the Jose."
"Subsequently, ownership of the Jose was assumed by Barry Swenson and Jim Fox, who closed the theater after the Loma Prieta earthquake. Swenson and Fox said it was not economically feasible to perform the retrofit to keep the theater open. The Jose Theater was declared a historical landmark on April 16, 1990. After more than a year of negotiations, the San Jose City Council agreed to pay for resurrection of the Jose Theater at a cost of $5.1 million. It will be leased for 10 years to the Improv comedy club, opening in 2002. The theater, which seats nearly 500 people, will be the largest of Improv's 12 venues."

Paul Bernal, Official Historian of San Jose, offers the following extraordinary comments regarding the odd connection between The Jose theater and Monterey Jack Cheese:
"Monterey Jack cheese was named for entrepreneur and financier David Jacks of Monterey. This is the same David Jacks who commissioned the construction of the Jose Theatre vaudeville house in 1904, which still stands at 64 South Second Street in San Jose. In 2002, it was reopened following a multimillion dollar restoration, renovation, and retrofit."

"David Jacks had an eye for developing someone else's product into a huge business. In the 1880s, Juana Cota de Boronda needed to support her family. Her husband became crippled and she had 15 children. At her Rancho de Los Laureles in Carmel Valley, Monterey, she prepared high moisture cheese by using a method brought from Spain to Mexico and then California by the Franciscan padres. The cheese was known as Queso de Pais. She sold it in local markets. It became a much wanted item, but Senora Boronda could not mass produce it given the limited number of milk-producing cows on her Rancho."

"David Jacks took the idea, and created a conglomerate of about 15 dairies to compete with Boronda. He called his product Jacks Cheese. Some consumers looking for Boronda's cheese would ask for the "jack" cheese (cheese made with a press or jack). Some would ask for Monterey Cheese. Capitalizing on the confusion of terms and producers, David Jacks cleverly renamed his brand "Monterey Jack Cheese" so all buyers would gravitate toward his cheese. Of course, Boronda was wiped out and Jacks became wealthy, enabling him to build the Jose Theatre, among other enterprises.
Tenga una comida buena !"
Paul Bernal
Official San Jose City Historian, Superior Court Judge
and former P.W. grocery clerk.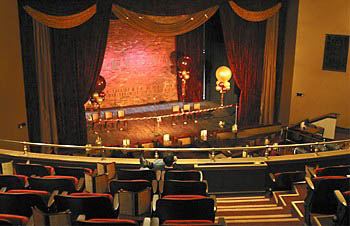 Photo liberated from the Preservation Action Council
site. Go there for more photos.

NRD-CS National Register District - Contributing Structure
The Jose is currently designated a Contributing Structure to the National Register Historic Commercial District.
NR National Register
It is individually eligible for the National Register and also for the California Register.
National Register indicates a structure, site, or district listed on the National Register of Historic Places administered by the Secretary of the Interior, Washington, D.C.
The Jose Theatre is a designated City of San Jose Historic Landmark.