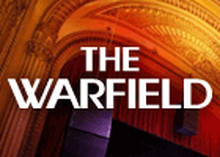 The Warfield
Where

982 Market Street, San Francisco , CA

Call

+1 415.567.2060

Contact

Web

Tags
About
The Warfield, also known as The Warfield Theater, is a 2,250 seat music venue in the heart of San Francisco.

In keeping with it's illustrious past, "everyone" has played The Warfield. The entertainment in the 1980's ranged from bands such as The Clash, Grateful Dead and U2, to theatrical productions such as The Rocky Horror Picture Show and the Cantonese Opera from China.

The Warfield, and all of its varied public events has been a beloved San Francisco institution for 86 years with Goldenvoice's new chapter having just begun. The soul of the building ripens with each passing year.

Twitter
Safe travels to everyone making their way home for the holiday! See you back in SF next Friday for One Starry Night! http://t.co/uq3kxgWYsa
#WCW: @MaryLambertsing & @IngridMusic b/c they're performing at the @star1013 One Starry Night next week! Tix at http://t.co/nJYGvpcmwm
@ZekeTheTourist u can get refunds at place of purchase.