Sunnyvale Restaurants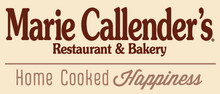 751 El Camino Real, Sunnyvale, CA 94087

408.245.3710
American. Locally owned and operated in Sunnyvale. Marie's commitment to freshly prepared foods using only the highest-quality ingredients still endures. Marie Callender's serves up a wide variety of classic American foods updated with today's flavors, including our signature Famous Pot Pies, Freshly Roasted Turkey Dinner, St. Louis Bourbon BBQ Ribs and Gorgonzola, Pecan and Field Greens Salad.
740 E. El Camino Real, Sunnyvale CA 94087; Tel. 408.245.4501
Steakhouse. A South Bay installation of the venerable chain, Black Angus Steakhouse in Sunnyvale continues to draw in patrons with the warm, casual atmosphere and classic American steakhouse appeal. The menu favors aged Black Angus beef prepared on a grill, but also includes seafood, baby back ribs, burgers and chicken. Appetizers like loaded potato skins, fire grilled artichokes, fried garlic-pepper zucchini and three-cheese garlic bread set a noble path for artery-clogging glory.
1235 Oakmead Pkwy., Sunnyvale CA 94085; Tel. 408.736.2739
American, Brewery. Faultline Brewing Company is a classic brewpub. Sports plays on the TVs near the bar, a huge patio provides comfy al fresco stomping grounds, the atmosphere is friendly and over 25 ales and lagers brewed throughout the year offer are reason enough to visit. The menu boasts classic brewpub-quality fare with more innovative twists.
1108 North Mathilda Ave., Sunnyvale CA 94089; Tel. 408.752.8000
Mediterranean. A bright and pretty Sunnyvale restaurant that features floor-to-ceiling windows looking out to a poplar tree-shaded garden, Faz is an enjoyable fine dining restaurant fit for almost any occasion, be it a date or a power lunch. The reasonably priced menu offers foods long on Riviera/Middle Eastern and rotisserie concepts, ranging from a Mediterranean platter to pizza, pasta and spit-roasted dishes.
398 W. El Camino Real, #114, Sunnyvale CA 94087; Tel. 408.736.2828
Asian, Chinese. Flavorful dishes hailing from the Pacific Rim populate the lengthy menu at Ginger Café. This casually elegant Sunnyvale dining spot pleases palates with Dim Sum, creative entrees, flavorful soups, salads and appetizers, and remains mindful of presentation. The service is excellent, and the atmosphere is clean, classy and fun.
1023 North Fair Oaks Ave., Sunnyvale CA 94089; Tel. 408.745.1260
California Fusion. Incorporating Asian, European and Latin influences in an elegant setting, the Lion and Compass impresses. This fine dining restaurant in Sunnyvale combines fashionable cuisine and urbane attitude with an English environment, providing a unique sense of warmth and uncommon style. The lunch menu is particularly notable for a diverse array of offerings that will satisfy almost any palate.
124 S Murphy Ave., Sunnyvale CA 95133; Tel. 408.733.7651
Contemporary American, Fondue. Described as a "hot stone and fondue bistro," Rok Bistro makes an impression with some of the most unique cooking methods. Patrons are in control when it comes to the cooking process, either placing meat and bread into fondue pots at the table, or grilling their entrée on top of a personal slab of hot volcanic rock that arrives with the fare. These unique cooking methods create an interactive dining experience that's entertaining for patrons of all ages.
140 South Murphy Ave., Sunnyvale CA 94086; Tel. 408.737.8003
Californian. A stylish Sunnyvale restaurant with an uptown attitude, Tarragon is a local favorite. The menu boasts fresh, creative interpretations of California cuisine, with dishes like braised short rib, saltimbocca, cioppino, baked brie and sweet gem salad. A fabulous wine list complements the menu.
P.F. Chang's China Bistro
390 W. El Camino Real, Sunnyvale CA 94087; Tel. 408.991.9078
Chinese. With atmosphere to spare—enormous stone horses frame the entrance, alongside hand-painted murals depicting life in the Ming Dynasty—Chang's doesn't neglect taste. Vibrant Szechuan flavors in dishes like chicken chow fun, orange peel shrimp, and Ma Po tofu mix surprisingly well with rich Western-style desserts. Full bar.
111 S. Murphy Ave., Sunnyvale CA 94086; Tel. 408.773.9500
American. Located in the historic district of downtown Sunnyvale. Award-winning brewery, exhibition kitchen, wood-fired oven, lush patio and an inviting atmosphere, is the perfect venue for corporate events, cocktail parties, birthday parties or just a gathering of friends.
Seto Deli
155 E. Maude Ave., Sunnyvale CA 94085; Tel. 408.735.7777
Japanese. Folksy country deli that offers hot and cold, takeout, eat-in and made to order food in a vibrant array of familiar and not-so-familiar Japanese dishes at prices that beat just about any restaurant's.
Turmeric Restaurant
141 S. Murphy Ave, Sunnyvale CA 94086; Tel. 408.617.9100
Indian. Tandoori and curry specialties. Turmeric, the magic spice that lends the yellow tinge to many Indian sauces, is an apt name for this spicy dining spot. The curries here are masterful.