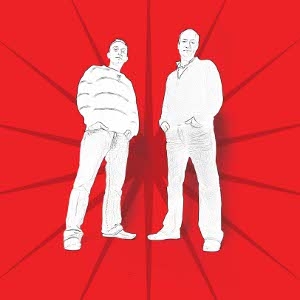 David Gorodyansky, left, and Eugene Malobrodsky co-founded AnchorFree—a software company in Mountain View—with the intention of offering consumers better privacy online. Since that time the company has outgrown its original purpose and helped foster revolutions in the Middle East.
Porous Boundaries
The websites a person looks at know more about the user than the user can ascertain from the screen. Every Internet user is creating a trail of information about their activity, and privacy advocates are troubled by the way those informational footprints are being used.
Lawmakers in Washington, D.C., with the advice of the Federal Trade Commission, are crafting legislation to help consumers protect their identities. It's unclear how much revenue would be lost if information about the Internet sites people visit, as well demographic metrics, are shielded from advertisers. But companies like Google, Yahoo and Amazon will surely fight to maintain access to those records.
AnchorFree's niche is in the compromise it offers. Users receive their free proxy IP address in return for a banner ad that appears on each site they visit (which can be closed with the click of a button) and a toolbar that contains other sponsored applications. Their online identities are not available to the websites they visit—nor to AnchorFree itself.
The trail still exists, and advertisers who work with AnchorFree can continue to target ads based on that information, but there is no exchanging of names, IP addresses or other identifiers. (AnchorFree, a private corporation, declined to release its revenue numbers.)
And yet there is a limit to AnchorFree's knowledge. Hotspot Shield was specifically programmed to toss out that information upon connection, the company says, while retaining information about its users' location.
"If somebody came to us and said, 'We'll give you a billion dollars for information on just this one person,' we simply don't have it," Gorodyansky says.
That's an important factor for the future of AnchorFree, and one appreciated by its users.
U.S. Congresswoman Anna Eshoo met with Gorodyansky and Malobrodsky in January when she was researching "do-not-track" legislation, which would prevent advertisers from recording users' online activities. She found, as is often the case, that the government is more than a few steps behind the private sector.
"Personal privacy is a closely held American value," says Eshoo, who was formerly the chairwoman of the Subcommittee on Intelligence Community Management. "I think it's in our DNA. We don't want the government having a lot of information about us. We have a healthy skepticism about it, and when it comes to the Internet, it's in some ways like the Wild West, a new frontier."
AnchorFree's ability to recognize this before anyone else has positioned the company in a way that seems staggeringly ambitious. With 9 million users currently, Gorodyansky's goal is to pass 100 million users in just three years. With 2 billion people on the Internet, the company identifies three-quarters of those people as its market.
Enticing individuals within these borders, as well those in nations besieged by authoritarian regimes, is the only way to achieve that goal.
"The bulk of the users are in the Middle East, which is not your bastion of targeted users," says Coleman with a chuckle. "I never believed David would be able to get 10 million in this period of time. But it's a geometric growth pattern. If it's 100 million by when, I don't know, but he's surpassed my expectations by traffic growth."
And that seems to be the point: a partnership of business, where the bottom line and a social need run parallel. Gorodyansky rarely misses an opportunity to bring up his idol, microbanking pioneer Muhammad Yunus. In his own way, he is trying to follow that path.
"We never had the thought, 'Hey, we're going to disrupt censorship around the world,'" Gorodyansky says. "But we did have a thought that once we do this and make it successful, the next thing we're going to do will be geared more toward social impact vs. making money. The fact that we can do both now is awesome."