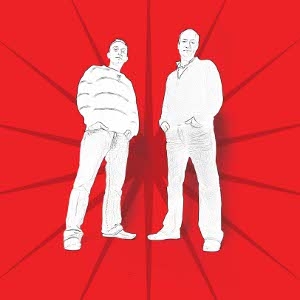 David Gorodyansky, left, and Eugene Malobrodsky co-founded AnchorFree—a software company in Mountain View—with the intention of offering consumers better privacy online. Since that time the company has outgrown its original purpose and helped foster revolutions in the Middle East.
When AnchorFree was getting off the ground, the two founders' weekly hours surpassed triple digits. Complementing each other, Malobrodsky handled IT and infrastructure logistics, while Gorodyansky became the face and voice of the company. In just three months of trying to attract angel investors—which resulted in $6 million of venture funding—Gorodyansky flew from San Francisco to New York and back 35 times. Relationships for both men were strained, and their anxiety about the possiblity of the company failing was constant. Malobrodsky, who has a 2-year-old daughter, barely saw his wife, and when he was home he was working. Gorodyansky, who has a long-time girlfriend, faced similar pressures.
"Of course, it's difficult, because when you have 100 things going on in your head it's hard to be a normal human being," he says. "It's not like working at a regular company. You always feel like something is going to go wrong."
Greg Coleman, formerly the president of Huffington Post after serving as the lead global sales executive for AOL and Yahoo, invested in AnchorFree and joined its advisory board in the second year of the company's existence. Getting him to come aboard was no easy task. Cocktail waitresses with $5,000 breast implants get solicited less than Coleman does to guide startup companies. But he knew after studying AnchorFree's analytics and meeting with Gorodyansky that the company had a unique vision.
"When I met David, he was 24," says Coleman, who is joined on the board by former MCI chairman Bert Roberts as well as Silicon Valley icon Esther Dyson. "He had an incredible early business sense, but his sense was mostly around the technology and surrounding himself with some good people."
It wasn't long, Coleman says, until he became aware that Gorodyansky's ability to identify good ideas and talented people was exceeded by his drive. "He's always working—always. He's too much. I'll get emails from him over the weekend, and I'll say, 'Go out, get a date, have a drink, chill out. He's very driven; he's always on. He's always an entrepreneur."
"When we started, it basically took over our lives, and that's all we did, but it was always fun," Gorodyansky says. "I read a quote the other day: 'A real entrepreneur is someone who steals supplies from home and brings them to his office.'" He stops and smiles wryly, as if his apartment in San Francisco has the look that it's just been looted.
That whatever-it-takes mentality was fostered in both men from a young age. Gorodyansky moved to Palo Alto when he was 9, coming with his parents and sister from Moscow. Malobrodsky arrived a few years later by way of Kaunas, Lithuania. Both come from parents who are engineers, and neither spoke a word of English upon arriving in California. Meeting at Hebrew school, they became friends and followed the industrious model set by their parents: work, study and enjoy yourself, which for this pair meant playing chess or conducting science experiments in their spare time.
"Me and David were always earning our own money," Malobrodsky says. "We didn't get money from our parents like kids nowadays. Everything is given to them. We actually had to earn it and learn what it takes to get what you have. That's probably part of our culture."
It's not a coincidence that foundation is also rooted in the culture of Silicon Valley.