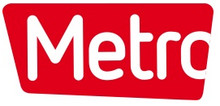 Metro, Silicon Valley's Weekly Newspaper
Where

550 S 1st St, San Jose , CA

Call

408 2988000

Web

Tags
About
Leading San Jose - SIlicon Valley area weekly newspaper. Covers news, arts, entertainment. Packed with information about what to do each week and has popular classified section. It's the best read publication in the South Bay, touching more people each week than any radio station in the market. Available at more than 1000 locations around the valley.
Twitter
[MUSIC REVIEW] Jaake Margo, Blank Frame, Monogatari, De Cor at The Rock Shop. http://t.co/b6DQKiuquG @SJ_RockShop @blankframesj
@DeathCafe offers a casual place to discuss shuffling off this mortal coil. http://t.co/JQJXfc9hNq via @gary_singh
RT @TommysofLG: The official @SVBeerWeek guide in @metronewspaper is out today. Pick one up and check out the events we have planned!