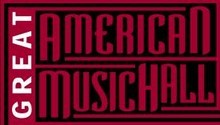 Great American Music Hall (GAMH)
Where

859 O'Farrell Street, San Francisco , CA

Call

415.885.0750

Web

Tags
About
San Francisco's oldest and grandest nightclub, the Great American Music Hall carries guests back to an earlier, more elegant era, with its ornate balconies, soaring marble columns and elaborate ceiling frescoes. Long-time customers and newcomers alike feel at home in the 5,000-square-foot concert hall that symbolized renewal and optimism when it opened in 1907. Today, a professional sound and lighting system, two full bars, a modern kitchen and a spacious oak dance floor help to blend contemporary quality with turn-of-the-century graciousness.
Twitter
So we're having a show with this guy (@Msldemarco ) on July 9th. -Donnell http://t.co/oKLuDDY04E
Excited for our show on Wed. 4/2! Exclusive album stream: Meklit's (@Meklitmusic) 'We Are Alive' http://t.co/8kpiix1wMg via @usatoday
RT @LuciaComnes: 1-week away, #StPatricksDay concert @GAMH @SanFrancisco with my Rockin' Irish Band. Guinness specials, Irish......