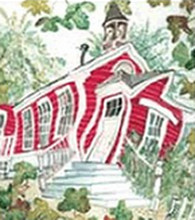 Burrell School Winery
Where

24060 Summit Rd, Los Gatos , CA

Call

+1 408.353.6290

Contact

Web

Tags

Hours

Mon-Wed (n/a)
Thu-Sun (11am-5pm)

About
Boutique Wines from the Santa Cruz Mountains
Nearby Monterey Bay brings warm days and cool nights resulting in a unique microclimate—perfect for long, slow-ripening of cool climate grapes.

From growing to harvesting, the goal is to produce the best wine grapes possible for production of distinctive, concentrated wines, reflective of their mountain home.

Call to schedule a Private Tasting
Burrell School Winery is open for your tasting pleasure on Thursday, Friday, Saturday and Sunday, from 11 a.m. to 5 p.m.

Private Events — Wine Sippers Club — Wine Lovers Wanted!
Our Wine Sippers Club offers previews of new wines as well as invitations to barrel tastings and "Back to School" wine tasting dinners. In addition, small private and corporate functions can be hosted during the warm weather months.

Estate vines with spectacular views of the canyons and ridges of the Santa Cruz Mountains
Burrell School's origins date back to 1854 when Lyman J. Burrell settled the rough wilderness that is now home to our winery and Estate vines. At the 1,600 foot elevation, our site faces to the southwest. Soils are a complex mixture of loam and shale, due to our close proximity to the San Andreas Fault.

Once harvest begins, the sure hand of winemaker David Moulton begins its influence. Grapes are harvested at optimal ripeness, crushed in small lots, and fermented with select yeast strains. Barrel selection is tailored to each varietal. Long, slow aging (12 to 18 months in French or American oak barrels) and unfined, unfiltered wines are the key to our winemaking techniques. Bottling follows, with an additional six to twelve months of aging before any wines are released for your enjoyment.

Twitter
Burrell School is open today, 11 - 5pm. Bring a picnic and enjoy the serenity of our mountain vineyard with some... https://t.co/LRe43htHaD
Feeling the need for Pinot? We have you covered. The 2013 Principal's Choice Estate Pinot Noir may well be the... https://t.co/8F0tirlERN
Happy Valentine's Day to all you wine lovers out there from the original high school sweethearts at Burrell School!