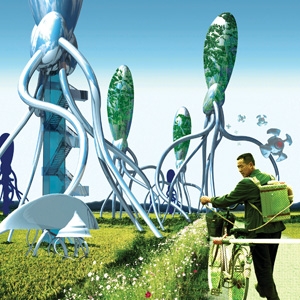 The 2010 01SJ Biennial rightly cements San Jose and Silicon Valley among the destinations for global contemporary art gatherings.
For more than 20 years now, new-media art fests have emerged on several continents, addressing key issues in the overlapping fields of art, science, critical theory, digital media and cultural studies. Ars Electronica in Linz, Austria, is the oldest, and similar festivals take place from Brazil to Japan to India. But there has never been a definitive equivalent in the United States, which is why everyone involved with 01SJ says it will become the North American model.
For 2010, the 01SJ Biennial arrives with an ambitious theme: "Build Your Own World." With that premise in mind, more than 100 art installations and dozens of commissioned works, plus exhibitions, workshops, musical performances and a high-tech street fair, will take over downtown San Jose through Sunday night, with some events carrying on beyond.
For those preferring the kind of art that occupies a museum or a gallerylike space, plenty of themed exhibits are currently running in conjunction with the biennial. Tech-related works to coincide with 01SJ can be seen at the San Jose Museum of Art, the Museum of Quilts and Textiles, the San Jose Institute of Contemporary Art, MACLA, Anno Domini, WORKS/San Jose, the Thompson Gallery at SJSU, Santana Row and even Mineta San Jose Airport.