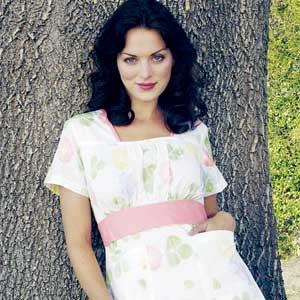 Frocks for docs get a fashion makeover.
There is cause for notice when one's nurse comes in wearing a pair of zebra-print scrubs—by Baby Phat. Scrubs used to be bland garments that made nurses, doctors, dentists and veterinarians look like they were wearing pajamas.
But thanks to TV shows like Scrubs and Grey's Anatomy, the demand for these colorful smocks has skyrocketed.
Stylish scrubs have ushered in a new era of medical fashion, bringing a renewed zest to the sickbay world of hospitals and doctor's offices. Traditionally, scrubs were designed to be unisex and basic. They had two pieces—a top and a pair of pants meant to be worn in a "scrubbed" environment. They are intended to be simple and sterile, trouble-free to launder and easy to dispose of if things get messy.
Early on, most scrubs were white to show they were clean and disinfected. However, the combination of bright surgery room lights and all-white surroundings made it a struggle for surgeons and their staff to see. Shades of calming green became the norm later.
Today, the market value of snazzy scrubs has climbed along with the recent surge of the nursing profession itself.
SJSU nursing student Lisa Cabalar was shopping for her first pair of scrubs when she discovered the vast selection now available.
"One lady told me to choose the name brand Koi scrubs, because they were the 'in' scrubs, and that was what all the girls were wearing," Cabalar says.
"I even saw one nurse at Kaiser Permanente in San Jose who designed her own scrubs. One time, I saw her wearing navy blue scrubs with jewels embedded all around her top."
From empire waists to crossover tops, from low-rise flare legs to boot-cut inseams, the options are endless.
One can choose from a cool teal and black ensemble with body hugging lines, a feisty leopard print or even ones adorned with Mickey Mouse or Hello Kitty icons. Cherokee and Urbane are just two scrub catalogs that have modernized their collections. Others, like Dickies, Iguana and Scrubs and Beyond are also popular among professionals.
With familiar TV shows, a growing nurse force and a national health-care debate, more attention than ever is being paid to the world of medicine.
But the influx of fashion into the medical realm has also stimulated a discussion on occupational fashion. How much should uniforms stretch the limits of convention to accommodate style and individual expression?
"I think that some of them [patients] think it's unprofessional, because in the medical shows they are in different colors depending on what job they have," says Laura Birmingham, a trauma technician at San Jose's Valley Medical Center. "But as far as my patients, they like something to laugh at when they're having a bad day."
Nurse It
Absolutely Uniform,
San Jose; 408.297.3900
3D's Medical Uniforms, Milpitas; 408.263.3337