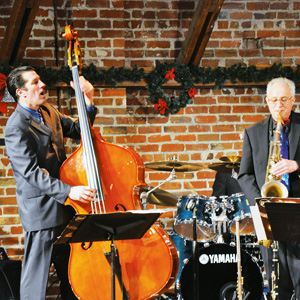 ALL THAT JAZZ: Saxophonist Eric Raeburn and bassist Gus Kambeitz jam for 'Big Band Christmas Surprise!' at Theatre on San
Jazz lovers will find no better event to ring in this holiday season than Big Band Christmas Surprise!. The show, mounted by Tabard Theatre Company, features the local jazz group Nineteen grooving its way through some of the most beloved holiday classics. As Gus Kambeitz puts it, "Nineteen, with the help of the Tabard Theatre, provides a family-friendly foray into the music of the big band."
Nineteen includes brass, woodwind and rhythm instruments and is most closely associated with the jazz and swing eras. Kambeitz and the rest of the ensemble hope to get people excited about the big-band sound while also entertaining them with wild jazz renditions of familiar seasonal numbers like "Winter Wonderland" and "The First Noel." The group is joined by an array of singers, who spice up the revue with an animated version of "Jingle Bells" and other favorites. Each performance also features a surprise guest celebrity, many of whom do readings or share a holiday moment.
The show, which runs roughly two hours plus an intermission period, is put on in the Theatre on San Pedro Square. The red bricks and exposed beams decorated with wreaths and lights give the performance a cozy feeling perfect for December. There are also crafts by local artists on display.
A portion of each night's proceeds is donated to St. Paul's Food Closet. Guests are also encouraged to bring in nonperishable food and clothing in support of this effort.
Big Band Christmas Surprise!
Runs through Dec. 16
Thursday-Friday, 8pm, Saturday 3 and 8pm, Sunday, 2pm; $10-$35
Theatre on San Pedro Square